Holmes Sotogrande Property Sales · Contact
Holmes Sotogrande
Dear customer,
Please feel free to contact us anytime, our staff are bilingual, always available, friendly and helpful.
We are located on the first floor above Videola and El Gaucho Restaurant, we would love to meet with you personaly to help you with your property purchase or sales needs in Sotogrande. For directions our map "How to find Holmes" should help.
Holmes Property Sales, S.L.
Galerías Paniagua, local 21
Avenida Paniagua s/n
11310 Sotogrande, San Roque, Cádiz, España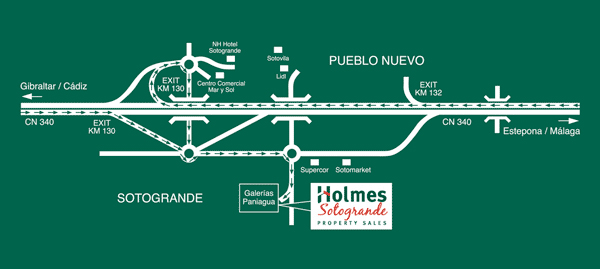 Contact us by e-mail at: info@holmesotogrande.com
By telephone on 00 34 956795340
Or come and find us in our offices
Opening hours:
Monday to Friday 9.30 to 13.30 and 15.00 to 18.00.
(July and August 9.00 to 19.00 uninterruptedly)
Saturday 10.00 to 13.00
By appointment any other time.