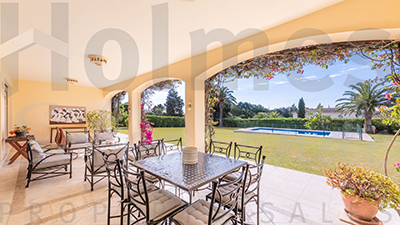 Sotogrande is famed for its exceptional properties, and this month we have selected this outstanding single storey villa located near the polo fields as our property of the month.
Located in the Reyes and Reinas area adjacent to the El Rio polo fields, this south-facing, four-bedroom, four-bathroom villa has been fully revamped and refurbished. Not only is the property quite stunning inside and out, the immaculately landscaped gardens are truly magnificent; they will make any owner want to spend more time outside.
The villa itself has a beautiful, open-plan entrance hall that leads to a large living room, a separate dining room, a double bedroom with an en-suite bathroom, plus a fitted kitchen and laundry area with top quality appliances. The spacious terrace that is accessed from the living area is of such a size that it is equivalent to adding another room on to the property, and it's perfect for creating an outdoor living area.
The master suite with large en-suite bathroom and dressing room is well proportioned and provides the possibility of creating a space for a private retreat. One of the other two bedrooms is a double with en-suite bathroom, while the fourth bedroom has a shower room. The property is perfect for family living, especially if you prefer living on a single level in true villa style.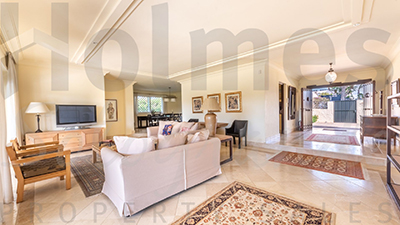 Other features of this property that must be highlighted are its refurbished swimming pool, the underfloor heating, and each room has its own hot and cold air conditioning unit. With energy conservation in mind, the property has climatic style double-glazing installed and each window features insect screens to keep the mosquitoes out. For security purposes, all the doors leading on to the terrace have aluminium blinds, and there is a double garage and a gardener's tool room for storing equipment.

This property is well-priced for its location and we invite anyone looking for a superior property for sale in Sotogrande to take a look at it.

By The Holmes Team · June 19th 2019