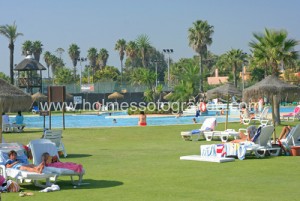 Endowed with some of the finest stretches of sandy coastline in southern Spain, Sotogrande is also home to two of its original beach clubs. Indeed, the beach club concept was alive and well here long before it became a universal phenomenon.
The classic Sotogrande beach club experience has therefore continued to evolve amid a blend of glamorous style and understated summer fun. Confident in themselves, those who frequent the members-only clubs create a more informal and relaxed ambience than the posing and preening sometimes experienced at other beach clubs along the Costa del Sol.
Here adults and children are equally well catered for, the children's activity clubs playing a central role in the summer holiday memories of generations of youngsters. Set right on the beach between the Real Club de Golf Sotogrande and the beach, El Cucurucho Beach Club is the classic among classics.
Bordering as it does the Sotogrande Racquet Centre, you can easily add its sports facilities to the beautiful beachside lawns, sparkling swimming pools, cabana bars, restaurants, outdoor club, chiringuito beach bar, volley ball areas and relaxed lounge zones that give El Cucurucho such a unique mix of elegance and true laid back summer season ambience. Add a dedicated children's club with professional minders, a sauna and massage treatments, and you can see why this stunning beachside venue has become the stuff of legends.
A little further along, where the Rio Guadiaro meets the Mediterranean amid scenes of soft sandy beaches, lays the El Octogono Beach Club. Similarly divided into a conventional beach club for adults and a children's club, El Octogono has also earned its place in the annals of Sotogrande's heady summers. The children's club is likewise supervised, and you can pick your spot in which to soak up the sun, fantastic views, the suave atmosphere and the occasional cocktail.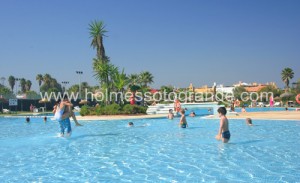 Nearby are water sports and sailing schools, but it would be hard to tear yourself away from the languid social scene that warms up in the evening. Sunsets here are not easily forgotten, and while both El Cucurucho and El Octogono are essentially for members and their guests, the equally popular chiringuito beach bars of Bahía Limón and Chambao become the centre of attention from mid-May to the end of the summer season in October.

Chambao Beach Bar Restaurant is the place to gather for great food, music and summer socialising. Popular with the young set, its summer parties are much anticipated and just the place to spot national and international celebrities. Even more laid back is Chiringuito Bahía Limón, where live music mixes with the sound of waves braking and the crackling of the BBQ grills. Summer at its best!

By Jackie Cruz - Manifesto · May 23rd 2013