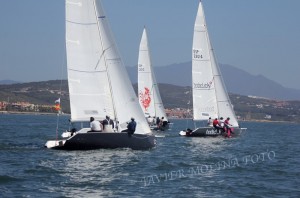 Sotogrande's setting makes it ideal for sailing. Families flock from all over Spain and much further a field to soak up the sun, enjoy local restaurants and set sail from a marina that has something for everyone from children's beginner sailing courses to championship racing regattas!
During the summer season, Sotogrande welcomes Spanish and foreign sailors and boat lovers from all over the world – coming not only from Europe but even from as far away as Qatar, Hong Kong and Singapore. Many visit year after year, attracted by the beautiful summer weather. Imagine skimming the waves between two continents while admiring the stunning scenery, spotting pods of dolphins, stopping in Marbella for lunch or crossing to Morocco for a North African tagine or mint tea.
In addition to its 545 yacht moorings for boats of 8m to 100m, Sotogrande's Marina offers a wide range of complimentary services, including meteorological information, showers, electricity connections, ice machines, laundry service, TV connections and even an onsite gym and heliport.
There's no better place to learn to sail than the official Royal Yachting Association (RYA) training centre, which offers theoretical and practical courses for beginners right through to those wanting to become a qualified yacht master. The proximity of ports under Spanish, British and Moroccan jurisdiction, along with the unusual tidal patterns for which the Straits of Gibraltar are known make Sotogrande one of the world's most interesting destinations for sailing lessons. But if drinking a gin and tonic while someone else steers the motor cruiser is more your style, there are superb opportunities for skippered boat charters too, starting at 400 euros for half a day. Catamarans, mono-hulls, laser dinghies, open keel sailing boats, jet skis and sea-going canoes are all readily available to hire.
The Real Club Maritimo Sotogrande (Royal Sotogrande Yacht Club) also has its own sailing school teaching 500 students per year and offering special courses to children aged between six and 14 years on Optimist dinghies, or children over 14 on catamarans. These weeklong courses teach kids all about the boats, wind direction and angles, orientation, boat handling, security at sea and basic racing skills in a fun and captivating environment.
The club organises and hosts around 20 regattas each year, among which are local, regional, national and global catamaran, Hobie Cat and cruiser races. Past glories have included the BMW Sailing Cup, ten Spanish Cups and the annual Copa Sotogrande. Some of the best international competitive sailors take part, including Olympians Alfonso Domingos, Hugo Rocha and Nuno Bareto.

Add sailing to your list of fantastic activities open to families in beautiful Sotogrande.

By Jackie Cruz - Manifesto · July 1st 2013