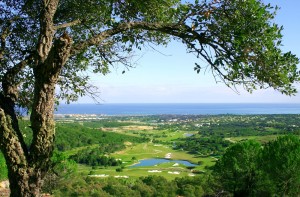 Sotogrande is known for its villas set in lush green gardens, in turn located within spacious and tranquil residential areas either close to the sea or following the contours of majestic golf courses. Alternatively there is the area of Sotogrande Marina, where stylish apartment buildings look out over the meandering waterways complete – in many cases – with direct access to private jetties.
With such iconic references you could easily overlook the fact that Sotogrande is also rich in choice when it comes to townhouses. Both in their styles, sizes and locations they provide great variety and offer both part-time and year-round residents many of the benefits of villa life combined with the convenience and easy maintenance of a more compact lock up and leave type of property.
In addition to some rustic village townhouses in the neighboring little town of Pueblo Nuevo de Guadiaro, for those who wish to immerse themselves in the Andalusian way of life, the main offer of townhouses in the Sotogrande area is focused on small-scale urbanisations scattered throughout the resort. In other words, you won't find dense concentrations of tightly packed properties in Sotogrande, but rather attractively styled homes that offer space, privacy and lie within tastefully laid out urbanisations surrounded by lots of communal greenery and facilities such swimming pools and tennis courts.
The townhouses of Sotogrande therefore follow the same criteria as its villas and apartments, always designed with space, privacy and a pleasant living environment in mind. It is this philosophy built upon quality that has maintained the Sotogrande name and its enduring appeal.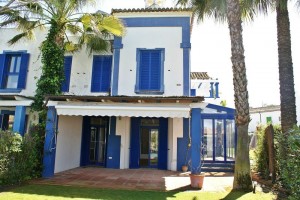 Popular townhouse urbanisations:
The townhouses of Sotogrande have the feel of independent semi-detached houses, set within well-kept communal gardens with a large swimming pool, as well as spacious private gardens with room for a small pool or Jacuzzi.
Situated in the heart of the Marina Ribera del Emperador offers elegant rustic styled houses with private gardens some are front line to the marina with the option of a mooring at the bottom of your garden and walking distance to the beach and the Octogano tennis club.
Sotomar and Las Terrazas, are urbanisations, located near the Valderrama Golf Course in Sotogrande Alto, enjoying attractive views from their peaceful, leafy setting and are close to the beach and all amenities. The properties are spacious and attractive in their layout and design ideal for family leaving.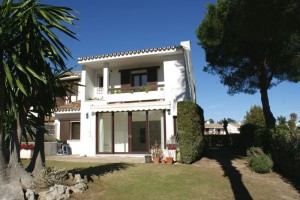 Situated at the entrance to Sotogrande Costa just of the the elegant Avenida de Paniagua, which through its continuation leads directly to the famous beach clubs of Sotogrande, La Loma is a tranquil townhouse urbanisation that offers privacy, space, convenience and lovely greenery surrounding it. Sizeable gardens, as well as private driveways and garages, spacious communal pool area, tennis and padel tennis courts, combined with spacious rooms and a good variety of sizes and configurations and flexibilty to extend and remodel to give these homes the kind of individual character and charm you would normally associate with a villa.
Enter Sotogrande near the SotoMarket shopping centre and you'll see the elegantly styled and generously proportioned modern townhouses of El Casar de Paniagua ensconced within ample greenery on the left hand side. Well-appointed, these homes offer modern comforts with a reasonable standard of style and luxury, as well as a very central location that means you can be anywhere you want within a few minutes. Within this complex, the stately townhouses of El Casar Fronda are compact villas in their own right. Also in the Sotogrande Costa are the developemnts of Los Granados and Polo Gradens. Both complexes offer excelent communal facilities very spacious 4to 6 bed-roomed houses with air conditioning and under floor heating, large private gardens and garaging.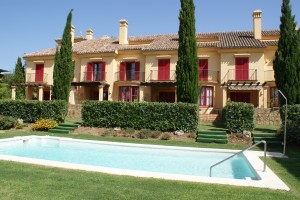 If a setting on the Almenara golf course, with fantastic open country views, is your preference, then the beautifully styled and finished townhouses at Los Carmenes offer first-class comforts and amenities within a very refined environment. They represent rustic Andalusian charm at its elegant best, with quality finishings, a private garage and highly appealing surroundings.
The semi-detached homes at Sotogolf represent the dividing line between luxury townhouses and villas. Designed to offer the ambience, space and comforts of a villa aligned with the convenience of a townhouse, these luxurious homes have many of the features of the villas surrounding them in the area between the Almenara and Valderrama golf courses, yet with greater easy of maintenance. For those who enjoy the freedom and glamour of a modern villa on a slightly more compact scale, the semi-detached homes represent the top end in the broad and attractive range of townhouses available in the Sotogrande area.
Not to forget of course the attached and terraced houses at Los Cortijos de La Reserva. Elegant high quality rustic styled house adjoining the the Club de Golf La Reserva and boast wonderful golf and sea views, communal pool and 24hr security.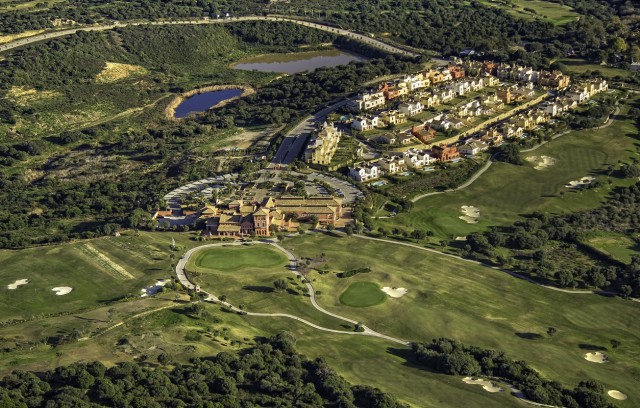 By Jackie Cruz - Manifesto · July 23rd 2013