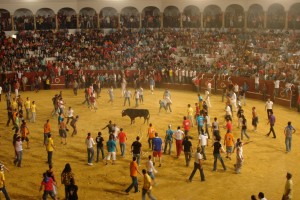 "There are only three sports: bullfighting, motor racing and mountaineering; all the rest are merely games." So said American writer Ernest Hemingway in his book 'Death in the Afternoon', which went on to immortalise Pamplona's San Fermin Festival and its heart-stopping running of the bulls.
Although the likes of this festival and the tomato throwing festival La Tomatina near Valencia are famous the world over, not many people will be aware that right here in Sotogrande we have our own little-known bull run that takes place in neighbouring San Roque. This historical event is said to date back to 1649 and is called the 'Toro del Aguardiente', taking place on the morning after the last day of the town's feria (annual festival) on Monday 12th August at 7am.
According to the San Roque Town Hall, the run dates from when the first Spanish inhabitants of Gibraltar would go in pilgrimage to the old Shrine of Santo Roque (built in 1508) to hold a bull run. The Shrine was located in the old quarter of the town where the parish church is today. The tradition continued after the Spanish population founded the new town in 1704, when the British and Dutch invaded the Rock
During the five day long feria, which runs from 7-11th August, there are processions, music, dancing and children's activities before the festivities end on the Sunday known as Domingo Rociero. Then on Monday morning a 500kg bull is let loose to run almost half a kilometre through the streets, which are lined by a strong steel fence, until it reaches the bullring. Before the run takes place, terrified participants are given a shot of the strong alcoholic spirit 'Aguadiente' for courage.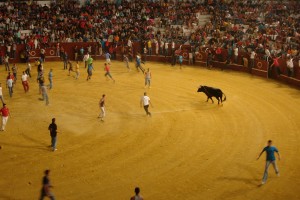 Once the bull reaches the ring, people have a go at being a 'matador' before the animal is returned to the pen and two younger, more dangerous bulls are released into the ring for some more serious 'bullfighting'. According to the rules, no one is supposed to touch or hurt the bulls and there is a local association that intervenes if necessary should the bulls' welfare be at risk.

San Roque's other claim to bull fighting fame was that the 'Pase de Muleta' (Red Cape and Sword Technique) was invented there by a matador called Manuel Ballón, El Africano.

Like most of Spain's fiestas, this spectacle is worth seeing if you want to catch a glimpse of this country's fascinating traditional culture.

By Jackie Cruz - Manifesto · August 8th 2013