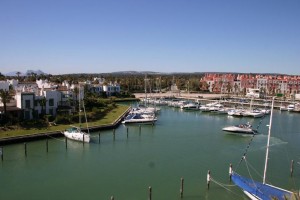 Only half an hour from Marbella and ten minutes from Gibraltar, Sotogrande is one of the most prestigious residential areas on the Costa del Sol. This privately owned estate is made up of golf courses, lakes and residential developments in the foothills of the Sierra Almenara.
The world-famous yachting marina of Sotogrande, with over 1350 moorings, is lined with a great variety of fashionable restaurants and bars, luxury boutiques and exclusive condominiums. If Puerto Banús is 'glitz and glam' then the marina of Sotogrande is all about elegance and sophistication. This chic, modern port has an easy-going and relaxed way of life. Saunter about the promenade window shopping in the pretty boutiques, enjoy a delightful seafood meal on one of the pretty terraces overlooking the marina, or stop for cocktails taking in the stunning panoramic vistas of Gibraltar, Africa and the Mediterranean Sea.
The condominiums that line the port were all built to represent quality and exclusivity, and no expense was spared in developing this unique residential resort with the primary focus being low building densities, strict architectural control and total respect for the natural beauty of Sotogrande's privileged surroundings. This means, there are no high-rise tower blocks and each development has been exquisitely designed and laid out with tasteful features and charming characteristics.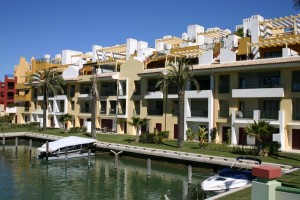 Ranging from compact apartments to lavish duplex penthouses, the developments that surround the marina are all bright modern builds, fitted with all the mod cons and boasting gorgeous sunny terraces with exceptional views of the harbour and sea. Each complex has its own communal areas, which can include gyms, swimming pools, gardens and spa areas, and the more extravagant penthouses boast their own private pools and Jacuzzis.
The port is exceptionally positioned, flanked by long stretches of  sandy beaches on both sides while rolling hills of golf greens extend inland. Shops, schools, gyms and leisure centres are all within a short distance, and of course some of the best restaurants and cafés are dotted about the port, right on your doorstep.
Although famous for its excellent golf courses and polo grounds, Sotogrande has so much more to offer. Its beaches are unspoiled and the surrounding countryside, which encompasses acres of rare cork forest, is a beautiful spot for walks and horse riding.
The marina is home to a renowned sailing club where you can enquire about all your nautical needs and enjoy the maritime lifestyle. Sailing boats, catamarans and yachts can be chartered, and jet-ski rentals are also available.
Life in the marina is breezy and easygoing, and there is a great sense of community. Imagine waking up here to the sunshine glistening on the sea before enjoying breakfast on your terrace while sailing boats float by… An ideal place to call home!
Here are some of the stunning properties we have listed in the marina:
First floor, 2bedroom, 2 bathroom apartment
Magnificent southeast facing penthouse apartment
Stunning 5 bedroom waterfront townhouse
Unique 5 bedroom penthouse apartment
3 bedroom, 3 bathroom luxury penthouse
By Jackie Cruz - Manifesto · June 4th 2014