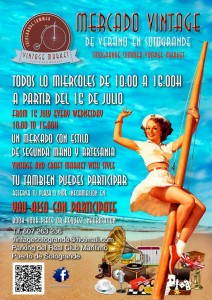 Sotogrande's vintage summer market, held every Wednesday from 10am until 4pm, has begun. The market is a great assortment of old and new, a quirky mixture of a good old flea market full of vintage finds, antiques and old or restored items, along with an artisanal craft fair boasting artwork, homemade wares and handcrafted goods.
The market takes place on the promenade Blue Marina shopping on Ribera del Marlin, Sotogrande Marina, offering an eclectic mix of clothing, home furnishings, accessories, jewellery and books, as well as food stalls selling home baked bread, cakes and other delicious treats.
From mink fur coats and classic handbags to an old Royal Enfield motorcycle or a 1960s china tea set, we have seen all sorts of weird and wonderful vintage items at the market that we'd love to snap up. There are some sublime crystal wine goblets and vases, funky retro fashion from the 1950s, 60s and 70s, including original mod dresses, tea dresses and flared trousers.
The local Sotogrande jewellery brand, Piedra Con Arte, will have a stall displaying their pretty precious stone collection of necklaces, earrings, rings and bracelets, while Colibri Art, Cultura Wayoo will be selling their brightly coloured bags and handbags hand-woven by the indigenous people of Colombia. There will be many such stalls, offering an alternative to the antiques and vintage stands, selling modern crafts and funky fashions.
In addition to the daytime market, an artisanal night market will run until the end of August, selling everything from hand embroidered linen clothing, straw baskets and panama hats to boldly coloured wooden toys and hand painted picture frames customised with names and dates.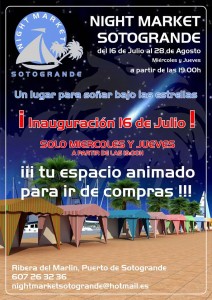 The night market will take place every Wednesday, Thursday, Friday and Saturday from 7pm onwards, and is the perfect location for an evening stroll and a spot of shopping under the stars. Boasting nightly entertainment in the form of circus clowns, acrobats and various other acts, there are also stalls where you can pick up a bite to eat or drink as you browse leisurely around the marina.

From bonsai trees to scented candles and baby clothes, there really is a hoard of exceptional sights and delights to choose from. With many local artists, craftsmen and small businesses displaying their work and wares, this is a great opportunity to grab yourself a bargain or a unique piece of art, whilst supporting small, local Sotogrande businesses and artists.

The night market is a wonderful place to spend a barmy summer's evening, but why not check out the day market too – because although it may be too hot to contemplate right now, you'll be wishing you'd bought some vintage fur by Christmas!

By Jackie Cruz - Manifesto · July 23rd 2014