When you purchase a home in Sotogrande you are not just acquiring a property, but also a unique lifestyle.
The founding concept of a fine estate, identified with style and good taste, top class facilities and security, has proven to be a huge success, making the resort internationally famous and a highly desirable place to not just live, but experience an exceptional way of life.
At Sotogrande the philosophy has always been to create something special, to fashion unique family homes that blend in with and complement nature, and so give birth to a privileged and vibrant way of life for the resort's residents.
The best of Sotogrande property at La Reserva
It was a dream of the resort's founders, the Zobel family, to build an exceptional place to live, quite unlike anywhere else to be found in Spain, and on the foundations they laid a new generation of luxurious homes is being created.
There are big plans for the La Reserva development, with the watchwords being, as always at Sotogrande, quality and lifestyle. Focusing on family living, each home will be individually designed to be a unique, modern house, created with the finest natural materials. The new master plan includes a country club with family facilities, wooded areas, children's golf, an all new racket club, upgraded equestrian center, awellness Spa and a 3 hectare lagoon with clean water for swimming and other water sports.
The architecture will make use of flowing forms and open plan spaces, set in the natural contours of the land, to fashion truly special homes that will fit in perfectly with the highest standards of the stylish Sotogrande ethos.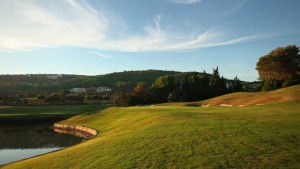 Valderrama golf
Even though it overlooks the La Reserva Golf course and is just a metaphorical nine iron from Valderrama, host of the 1997 Ryder Cup, La Reserva development is not just for golf lovers. The extensive amenities and facilities of Sotogrande are close to hand, including the world famous polo fields, international schools for children of all ages, the iconic marina, tennis and exceptional restaurants and beach clubs.

The plans for La Reserva come at an exciting time for Sotogrande, with a recently announced €1 billion investment at Santa Marias Los Pinos Polo Club, making the resort's future look particularly bright, and bringing much needed confidence back to the market.

While it is well connected to the outside world by good roads and three international airports (Gibraltar, Jerez and Málaga), the resort retains its peaceful air and natural charm, something which, following the founders' ethos of good taste and respect for nature, is one of the cornerstones of Sotogrande and its uniquely privileged lifestyle.

By Jackie Cruz - Manifesto · September 15th 2015