Sotogrande is one of the most exclusive places to live on the Costa del Sol as well as being one of the most beautiful developments. Much of this is centred upon the marina, which has earned it the nickname "Little Venice of the Mediterranean" with its tree-lined canals, waterside restaurants, stylish boutiques and craft market. But Sotogrande is also known for its to its stunning selection of exclusive properties and the place that sets it apart from the rest of the coast most of all – the Santa María Polo Club. After all, there are few pursuits more likely to draw the rich and famous than polo; it is the ultimate sport of kings, princes and high net worth individuals.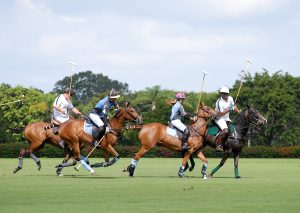 During the polo season Sotogrande is buzzing with polo players from around the world along with their entourages and fans. Did you know that each player needs a string of 7–10 polo ponies, as they will use at least four horses per game? It's a very intensive sport and as you may imagine, Sotogrande's polo club has to provide stabling for over one thousand Polo Ponies during the summer season, which is a task that the Santa María Polo Club has performed to a very high standard since Enrique Zobel first brought the sport to Sotogrande in 1965.
Although there are tournaments throughout the summer months, with the first three weeks of July being the time to see the Jerez Polo Cup, the Enrique Zobel Memorial Cup and the Spanish Championship, it is the month of August that brings the star attractions. From 27 July to 28 August 2016 it was the 45th International Polo Tournament, which as the most important polo contest in continental Europe features the prestigious Cartier Gold Cup.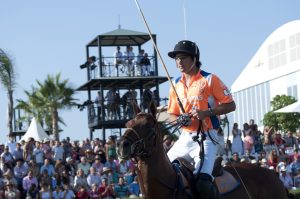 The final of the Cartier Gold Cup this season was a contest between teams Ayala and Dubai, who had beaten Brunei and Lecuzoa Caracas to reach the final. This highlight of the polo season drew the crowds to Sotogrande to see the Dubai team defeat Ayala and lift the Gold Cup for the second year running. Dubai team Captain Adolfo Cambiaso is considered the best polo player in the world, and although he couldn't finish the final due to a fall that kept him off the field for the last three minutes of the game, his team held on to win. None other than King Emeritus Juan Carlos of Spain, who brought regal glamour to the occasion, awarded the prestigious cup to the Dubai team.

There is, of course, more to the polo season than the sport itself, as the Santa María club becomes a social centre complete with top quality restaurants, cocktail bars, boutiques, children's entertainment and live music ranging from classical to contemporary. The polo season is one of the many reasons people love living in Sotogrande – there simply isn't anywhere else like it in southern Spain.

If you would like to know more about the area's unique lifestyle and the lovely apartments and villas for sale in Sotogrande, please contact Holmes Property Sotogrande.

By The Holmes Team · September 20th 2016