You might have noticed, we're in the midst of a new age of design where it seems that 'classical' is out and 'modern' is in. It's true, a lot of clients are looking for homes in Sotogrande featuring contemporary architectural styling, yet in our experience trends and fashions come and go but quality and timeless design have an enduring appeal.
Like its counterparts across the globe, Sotogrande property has undergone a succession of design waves since the foundation of this unique resort destination in the 1960s. The initial Sotogrande homes, in those days mostly villas and country properties, were a contemporary adaptation of traditional Andalusian styles, with whitewashed walls, terracotta roof tiles, classical courtyards and cool interiors shaded from the summer heat.
The first wave of modern Sotogrande villas
But internationally this was also an era of modern experimentation, and before long both Spanish and foreign architects were creating modernist Sotogrande villas that have since become 20th century classics that not only remain highly appealing and sought after, but are likely to become listed structures in their own right. These sleek, whitewashed villas in Sotogrande's Kings and Queens area, near the beach clubs and the Real Club de Golf Sotogrande, feature flowing open-plan interiors and an innovative interplay of light, space, materials and textures.
A return to local roots
The 1980s saw a return to more classical Mediterranean and traditional Hispano-Moorish styles, albeit interpreted to suit the tastes and needs of the day. The charming apartments surrounding the original part of the Sotogrande marina feature a delightfully colourful touch of Caribbean and Mediterranean inspiration, which, like the early modern Sotogrande villas, have lost none of their attractiveness and popularity.
This style evolved further with newly improved construction standards and by the 1990s the 'Contemporary Mediterranean' style was also acquiring some colonial elements, its tonality shifting from white towards tan and terracotta. Many of the Sotogrande marina apartments and villas in Valderrama and La Reserva feature this kind of architecture, and there continues to be a lot of demand for properties of this style, perhaps more so than in other parts of the Costa del Sol, where trends are followed a little more slavishly.
Modern vs. Timeless
The latest era, which has seen the Sotogrande property sector revived and construction recommenced, has been dominated by what is popularly dubbed 'modern architecture'. In many ways the sleek, white and occasionally angular designs characterised by large glass frontage, up to the minute home technology and minimalist open kitchens integrating into breezy living rooms and terraces is a return to the past, in the sense that it finds much inspiration in the earlier modern architecture of the 1960s and 70s.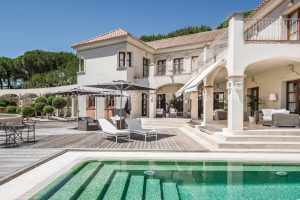 Eventually this phase will give way to a new stylistic trend, but what we very much emphasise to homebuilders, developers and buyers is the fact that it isn't so much the architectural style but the quality of design, concept, construction and finish that makes a home timeless. Aided by good taste in its distribution and decoration, such a property retains its appeal, its value and finds eager buyers. A timeless home not only withstands the changing of design fashions but is also largely cycle-resistant, as you seldom struggle to sell an outstanding property. Naturally location plays an important role, but before you are tempted to get caught up in the fervour of a new style trend remember that even more important is aiming to create a home of timeless appeal. Achieve this and you can't go wrong.

By The Holmes Team · February 6th 2017