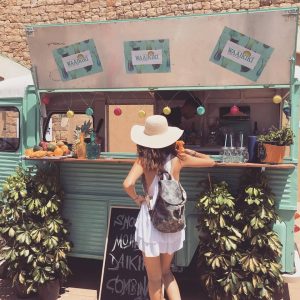 Following the success of last year's El Mercado de Levante, the trendy market is now in full swing in Sotogrande—an event that shouldn't be missed!
Running weekly throughout the summer months of July and August, the market, which has become known as one of the most stylish of its kind, boasts a large entertainment offering including food, live music, children's entertainment, market stalls and more, making for a fun day out for all the family!
Colourful food trucks decorate the charming port daily from 5.30 pm, providing a unique outdoor dining experience for those who are looking to socialise with friends with quality food and drink while relaxing in the comfortable seating area and enjoying the sound of live music and the cool sea breeze.
Each Sunday a traditional market will also take place at the marina, providing the opportunity for shoppers to browse the stalls and treat themselves to some handmade jewellery, silk scarves, items of clothing or unique antiques.
As the sun sets the palm trees are illuminated by sparkling fairy lights and the night market comes to life, creating a particularly magical setting.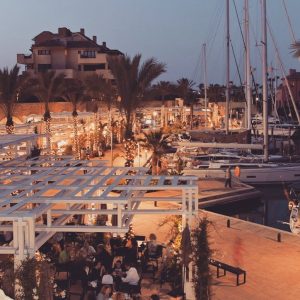 As well as the market stalls, there is a range of elegant art galleries, chic interior design stores, stylish boutique shops and trendy bars & restaurants that reside around the marina and add to Sotogrande's entertainment options and buzzing summer atmosphere.

For the children, Jugarina playground provides the opportunity to participate in endless hours of fun, while meeting new friends. The fun park includes activities such as mini golf, an inflatable park, ball park and fun battle.

Regardless of what day you decide to visit El Mercado de Levante in Sotogrande, it promises a fun day or evening for people of all ages. Whether you want to browse the market stalls, enjoy cocktails overlooking the marina, dine with friends or take advantage of the enchanting night market you are sure to have a memorable experience.

If you are looking to relocate to the Sotogrande area on a permanent basis, take a look at our selection of luxury villas and apartments for sale in the area.

Images courtesy of El Mercado de Levante

By The Holmes Team · July 13th 2017