You will probably hear 'smart homes' mentioned frequently nowadays and it is a trend that will grow in the future. A number of the luxury properties in Sotogrande are either being built from new as 'smart homes', or existing properties are being refurbished to install smart technology.
The concept of the smart home covers a number of activities in a residence and the term is defined as "a home that incorporates advanced automation systems to provide the inhabitants with sophisticated monitoring and control over the building's functions. For example a smart home may control lighting, temperature, multi-media, security, window and door operations, as well as many other functions."
Smart homes use 'home automation' technologies to provide home owners with 'intelligent' feedback and information by monitoring many aspects of a home. This can take place in situ or from another location or even country, enabling owners to have control of all aspects of their home while travelling. For example, a smart home's refrigerator may be able to catalogue its contents, suggest menus, recommend healthy alternatives and order replacements as food is used up. A smart home might even take care of feeding the cat and watering the plants. These are advanced elements of the smart home, but the technology exists and the level of 'smartness' your home has is entirely up to you.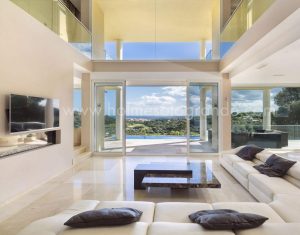 As we mentioned earlier, many new homes are being built with the additional wiring and controls that are required to run advanced home automation systems. Retro-fitting (adding smart home technologies to an existing property) a house to make it a smart home is obviously significantly more costly than adding the required technologies to a new home due to the complications of routing wires and placing sensors in appropriate places. But, it can be done and will bring an existing property right up to date.

Fundamentally, smart homes present some very exciting opportunities to change the way we live and work, and an opportunity to reduce energy consumption at the same time. Imagine being able to check messages, open windows, operate lights and curtains and monitor the money you have saved from your renewable energy system, just by accessing your smart phone wherever you are in the world.

If you are interested in a luxury residential property with smart technology in Sotogrande, please contact us and we'll be delighted to show you the properties that are available.

By The Holmes Team · September 20th 2017