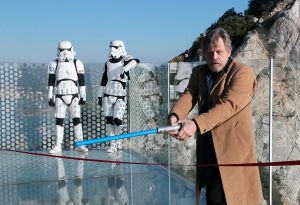 Sotogrande has many beautiful attractions that have been seducing visitors and permanent residents for many years, from the delightful marina surrounded by shops, bars and restaurants, to the world class golf courses, as well as the famous Santa María Polo Club.
A great day trip from here is Gibraltar, easily reached in less than half an hour and a world away in terms of atmosphere and culture.  'The Rock', as it's known to locals, is an interesting journey into a half-Spanish, half-British culture that has somehow merged into a unique identity.
As this is an ideally compact destination, a day trip is perfect to see the main sights, so get there early and avoid potential queues at the border. Last week, the latest attraction to be unveiled was the Skywalk, unveiled by Mark Hamill – Luke Skywalker himself!
The 66-year old actor took to the 2,5 metre wide see-through path flanked by Storm Troopers to officially declare the attraction open, fittingly cutting the ribbon with a lightsabre!
The glass structure, erected at a former military look-out point, offers an unbroken 360º panoramic viewpoint as spectacular as anywhere else in the world, truly breath-taking views of Africa and Spain, and across the Straits of Gibraltar.
Suspended 340 metres above sea-level, the four layers of see-through panels create the impression of walking in the air – exhilarating for some but not for the faint-hearted or sufferers of vertigo.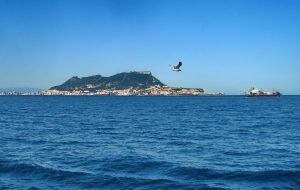 Apart from the Rock's nature reserve, with its famous monkeys, there is much history to discover in Gibraltar, with significant monuments and military tunnels burrowed through the rock, or for a more prosaic diversion, a great leisure centre with a bowling range as well as ice-skating rink.

Sotogrande is close to many interesting and cultural areas. We would be delighted to help you find your holiday home or permanent residence here, so please contact us to discuss your property needs.

Image courtesy of Attractions Management

By The Holmes Team · April 11th 2018