The Costa del Sol, where Sotogrande is located, has a wide variety of golf facilities to suit players of all levels and with over 60 golf courses to choose from in this part of Southern Spain, it comes as no surprise that it is often referred to as the Costa del Golf. The Costa del Sol attracts millions of golfers from all corners of the world every year. With a climate that allows you to play all year round, it is Europe's most sought after destination for great golf facilities.
Sotogrande and golf have become synonymous. The area boasts some of Spain's best golf courses and within the resort of Sotogrande you can play at Club de Golf Valderrama, home of the Volvo Masters and 1997 Ryder Cup, as well as Real Club de Golf Sotogrande, ranked as the number one and two golf courses in Spain respectively.
In addition, within the Sotogrande resort are three more golf courses known as La Reserva, Almenara and La Cañada. And if these courses are not sufficient to satisfy your needs, you can also play at the two San Roque Golf Courses, the two Alcaidesa Golf Club Courses, La Duquesa and Estepona Golf or a total of 11 courses all within a 15 minute drive from Sotogrande.
Real Club de Golf de Sotogrande
Real Club de Golf de Sotogrande opened in 1964 and was the first golf course which Robert Trent Jones Sr. designed in Europe. The stunning course has matured well and is ranked among the top ten in Europe. Its maintenance is always spectacular. This beautiful 18-hole par 72 course features plenty of trees, bunkers, water hazards and fast challenging greens. Usually the sign of a good golf course is one that a professional golfer finds challenging, while at the same time allows the high handicap golfer to also have an enjoyable round. The wide fairways and the absence of high rough welcome the high handicap golfer to play without having to look for many balls. While the length of the course off the back tee, the possibility of tucking the flagsticks in tight positions, the fast undulating and elevated greens can easily challenge even the most proficient golfer. It is for this reason that it is considered as the best-designed course in Spain.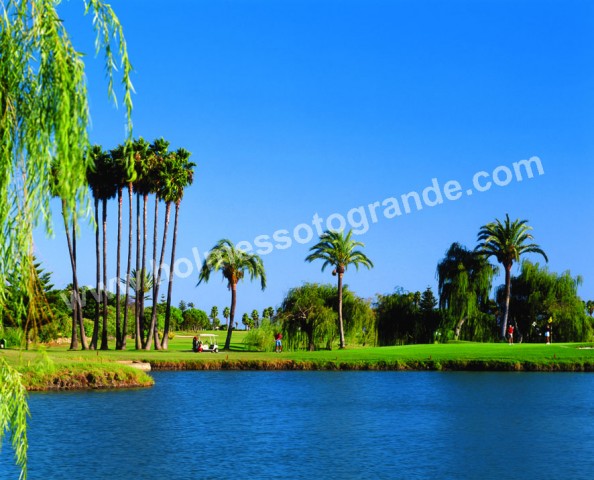 Real Club de Golf Sotogrande has two teaching golf professionals always available, a 9-hole executive course, a practice range, a second to none practice pitching green, two practice putting greens, two tennis courts, two paddle tennis courts, a gymnasium and a swimming pool. It is a friendly and family orientated club with lots of organized social events and golf competitions.
Valderrama Golf Club
Valderrama Golf Club is Spain's most famous golf course. This championship course hosted The Ryder Cup in 1997 and is the home of the Volvo Masters, having already hosted 10 events of this prestigious championship. It is rated as the number one course in Europe and it is fully committed to keep the maintenance of the course in impeccable shape no matter what it may cost.
Also designed by Robert Trent Jones Sr., it is considered one of the toughest tests in golf. The tight cork tree lined fairways and the lightning fast undulating small greens will make every golfer smile should he/she be able to tame the course. Many professional events have been won with over par scores.
In addition to the course, Valderrama has a 9-hole executive course, a practice range, a practice putting green, a practice pitching green, a well-stocked golf shop, a golf museum and last but not least, a superb clubhouse with excellent dining facilities.
Club de Golf La Cañada
Club de Golf La Cañada was the first municipal golf course to be built in Southern Spain. Also located within the Sotogrande Resort, the course was designed by Robert Trent Jones Sr. and initially only had 9 holes. Several years later, Dave Thomas was asked to design the second 9 holes. La Cañada was chosen by The European Golf Association as the site for the celebration of the European Junior Championships in 2006. It is a well-maintained par 71 golf course over a rolling terrain with plenty of trees. Although the course is not very long, it does require very strategic play. Cañada means gully and it is the large gully on the 18th hole requiring a long carry on your drive which gives La Cañada its name.
Because of its proximity to Sotogrande, the locals in the quiet town of Guadiaro are amongst the most knowledgeable golfers in Spain. And since La Cañada is their local club, it is no wonder that the course has bred many of Spain's top golfers, both amateur and professional.
The course offers a practice driving range, a practice putting green, resident teaching professionals, a tremendously effective children's golf program and its own clubhouse with excellent Spanish cuisine.
San Roque Golf Club
San Roque Golf Club boasts two superb golf course located within a five minute drive from Sotogrande. Both courses have hosted The European Tour Qualifying School, as well as The Spanish Open. The Old Course, designed by Dave Thomas, is a demanding par 72 course which was created in 1990. Its tree lined fairways, numerous bunkers and several water hazards require placement shots and good strategic play. The renowned American golf architect, Perry Dye, designed The New Course. The course opened in 2004 and also is a very strategic course with lots of trees, pot bunkers, waste bunkers and water. Anyone who plays well on this course will leave personally satisfied having conquered a very challenging course.
San Roque Golf Club offers a beautiful clubhouse with excellent dining facilities, a covered practice range and academy, two practice putting greens and a practice pitching green. In addition to golf, there is an internationally run Equestrian Centre.
Almenara Golf Club
Almenara Golf Club, located within the Sotogrande resort, is unique in that it has three sets of 9 holes, all par 36, that can be played in different combinations. This course was designed by Dave Thomas and opened in 2001. Because it sits well above sea level, it offers in many places scenic views to the sea and most of the Sotogrande resort.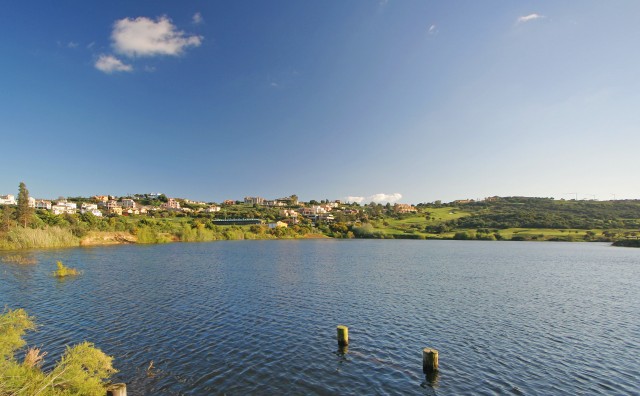 The three sets of 9 holes have differing settings and sceneries, with one being set amongst pines, the other amongst cork trees and the last among lakes.
Home to the renowned Almenara School of Excellence, Almenara is fully-equipped and boasts modern golf practice facilities, both covered and uncovered, with a simultaneous practice capability of 90 players, three practice holes around the practice range, two practice putting greens and a video studio for swing analysis.
Almenara has its own clubhouse situated immediately next to the five-star Almenara golf Hotel & Spa, which offers a variety of first class facilities that includes all treatments to be expected from a top spa; medical sports analysis for athletes, gymnasium, Jacuzzi, indoor and outdoor pools etc.
La Reserva de Sotogrande:
Designed by Cabell Robinson, a disciple of the great Robert Trent Jones, this course will eventually be two 18 hole courses. It nestles between two valleys with wild olive trees and cork oaks. The first course is laid around four lakes and features large and varied greens and bunkers.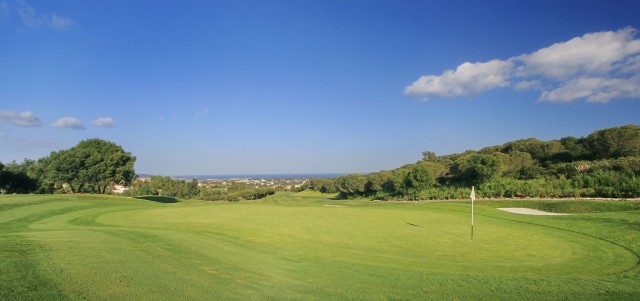 Sotogrande Golf Academy:

This academy situated between the Almenara and Valderrama courses is the only high performance centre in Andalucía. It is the ideal place to take one's first lessons into the golfing world. The facilities include 90 practice tees (10 covered), 3 practice holes, a floodlit range, chipping, bunker and putting areas.With a state of the art video swing analysis system, highly qualified multilingual coaches, there is no better place to start your golfing life.

Alcaidesa Golf Club

Alcaidesa Golf Club is the only links course on the Costa del Sol. It was opened in 1992 and was designed by Peter Alliss. In the summer of 2007, a second course was opened which adds to the variety of golf courses to be found in the area.

The links course has held several Spanish PGA tour events and is a very popular course. Set just above the beach, its views totally dominate the Straits of Gibraltar and Morocco.

The course is perfect for golfers of all levels and is a fun yet challenging course to play. These two courses are located within a 10 minute drive to the west of Sotogrande.

La Duquesa Golf Club

La Duquesa Golf Club is just a 10 minute drive to the east of Sotogrande. It is set in the hills across the road from the Duquesa Marina. There are many holes with scenic views to the mountain range, the sea and Africa.

The many deep gullies, the undulating greens and tight fairways make this course highly demanding, requiring good concentration, strategic well-placed drives off the tee and good putting. The golf club itself offers a comprehensive range of facilities, such as a practice range, practice putting green, gymnasium, sauna, jacuzzi, tennis and squash courts.

Estepona Golf Club

Estepona Golf is located just 15 minutes to the east of Sotogrande and is very popular as it offers excellent value for money. With the Sierra Bermeja Mountains as a backdrop and sloping fairways down to the sea, the course offers breathtaking scenery from every angle. The par 72 course opened in 1989 and was designed by Jose Luis Lopez. It is a difficult but enjoyable course that will always test the technique of any golfer.

Estepona Golf Club has its very own Clubhouse close to the 18th green, practice range, practice putting green, a golf shop and a lovely bar / restaurant.

By · November 2nd 2011