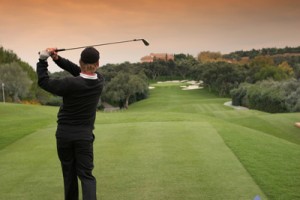 Now that is quite a statement to make, but Sotogrande's most famous golf course has often been described as the finest course on mainland Europe. Originally built in 1974, it was later taken over and redeveloped by Jaime Patiño, who developed a legendary reputation for perfectionism and converted a hugely promising course into one that ranked among the world's elite.
A lifelong golf enthusiast, Jaime Patiño would famously instruct the groundsmen on how to cut the grass, preferring them to finish the job with scissors to achieve the level of perfection he insisted upon. The result was an immaculate green carpet that followed the gentle undulations of the terrain in true and seamless fashion to the point where the rough at Valderrama would have qualified as fairways on some golf courses.
But it isn't just the sporting facilities themselves that earned Valderrama such fame, for the clubhouse, pro shop, restaurant, hospitality facilities and adjoining bar and private members' areas all exude the air of a hallowed institution dedicated to the best in golf. Here, it is not so much a sport as a philosophy of life, in which old-fashioned values of gentlemanly conduct are held up as an ideal.
Golfers love to be here, both on the course and off, and famous people can often be spotted at Valderrama, often having travelled far for the privilege. Not surprisingly, membership at Valderrama is hard to come by and jealously guarded. This makes it a golf club where visitors are welcome but members are the priority – and this is as it should be.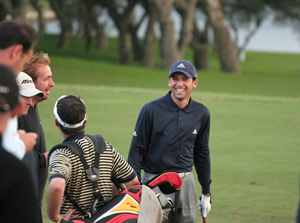 Host to many a prestigious national or international tournament over the years, Valderrama is most fondly remembered for the Ryder Cup competition of 1997, when the concentration of the world's greatest players on its lawns caused traffic jams all the way back to Marbella. Today, Valderrama retains the unofficial title as the 'best golf course in continental Europe' in the face of stiff competition, remaining a much-loved icon in the golfing world.

That people would want to live near such a course is understandable, and though the complex itself remains pleasantly uncluttered by residential development, there are some developments that have the privilege of directly overlooking one of its famous fairways or greens. Restricted to highly exclusive villas and apartment developments, they resonate with clients from far and wide, and rank among the most highly desired real estate in the entire Sotogrande area.

The following link will show details of just one such wonderful villa, which adjoins the 4th Green and 5th Tee of Valderrama with wonderful views down the Fairway and also to the sea. https://www.holmesotogrande.com/ref-HSNS-1083.html

At the end of 2011, whilst the Patiño family still own the majority stake of the golf course, they retired from the day to day management of the club. Instead there is now an elected management committee and President. More on Valderrama to follow…..

By Jackie Cruz - Manifesto · August 29th 2012