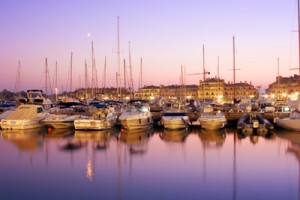 Sotogrande is pretty, it's spacious and well facilitated, but above all it has style. It also has, dare I say it, class. In a world full of cheap chic and cluttered commercialism this is a haven of taste and tranquillity where you come to your senses and enjoy the unique ambience of an exclusive marina the way it should be.
The marina is the heart of Sotogrande's community, the place where people meet up, saunter around and drink in the atmosphere. It has a presence, a distinct character and a charm that is not derived from in-your-face posturing but from an understated sense of style. The architecture and layout create the setting in which it is a pleasure to go about your business and observe others doing the same.
Whether a hive of activity or languidly laid back, the marina ticks to a subliminal rhythm that sways between the boats in the berths and yards, and the shops, cafés and offices that face the water. A yacht harbour frequented by authentic yachtsmen, the boats range from beautiful wooden yachts and sleek ultramodern sloops to motorboats of varying sizes and styles.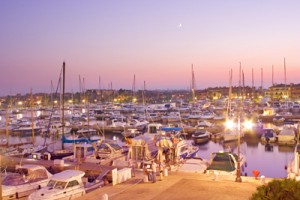 Some are made for competition, others for easy days on the water, but together they provide a wonderful backdrop for life in a marina otherwise dominated by the iconic architecture of its waterfront. Pastel colours give a hint of Italy suffused with touches of the Caribbean, endowing Sotogrande's marina was a charm quite unique along this coast. Another masterstroke is the layout, which allows shops and cafés to flow along and apartments to overlook a series of interconnected squares that retain a link with the yacht harbour itself, yet offer intimate, sunlit areas inspired by the piazzas of Tuscan villages.
It is within this setting that the marina's collection of nautical brokerages, architect's offices, hair stylists, restaurants, cafés and boutiques are set. True to Sotogrande fashion, they are stylish, classy and understated, creating a destination in which it is possible to have an ice cream in the plaza, a coffee overlooking the boats, Spanish tapas, French cuisine, Italian delicacies and also lounge bars in which to socialise at night.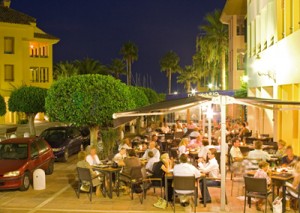 Among the restaurants are the brasseries La Cigale and La Terrasse, Ristorante Frascati, Belgian restaurant Mytilus and the modern gastronomical experience that is Restaurante Boka. For a sociable drink pop into The Hairy Lemon sports bar, the Veuve Clicquot terrace overlooking the yachts or the Moët & Chandon lounge at Terraza El Marítimo of Hotel Club Marítimo de Sotogrande. Set nearer the business end of the yacht harbour, this luxurious hotel enjoys some of the best views of the marina – and the spectacular outlines of Gibraltar and the North African coast beyond.

Like a little St Tropez sparkling on the western extreme of the Mediterranean, the marina embodies the true spirit and charm of Sotogrande, providing a waterside experience that has earned its own renown.

Click here to view a range of luxury apartments and penthouses in the Sotogrande marina area.

By Jackie Cruz - Manifesto · August 31st 2012