Holmes in Sotogrande has an extensive portfolio of luxury properties for sale to suit all tastes and budgets in some of the most prestigious locations. Properties of this caliber must be seen to be fully-appreciated, that's why at Holmes Sotogrande, a viewing trip to Sotogrande in Southern Spain is highly recommended.
If you are looking for a second home in Southern Spain or a permanent residence, Holmes Sotogrande can organise a relaxed yet tailor-made viewing trip on your behalf.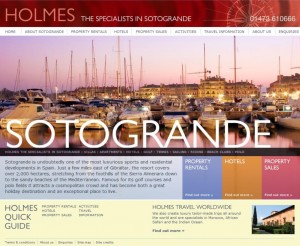 Through its sister company Holmes Travel in the UK, Holmes Sotogrande can assist with the following:
Return flights to and from Southern Spain
First class hotel accommodation
Private rental accommodation
Private transfers from Malaga or Gibraltar Airport
Car rental
Through Holmes Travel, you can rest assured that you will find the best flights and accommodation at the most competitive prices to ensure your viewing trip is enjoyable and exceeds expectations.
Once you have decided to book your viewing trip to Southern Spain, Holmes Sotogrande will arrange carefully selected property viewings to ensure you will be shown properties for sale in Sotogrande and the surrounding area to suit your specific requirements.

By · November 2nd 2011