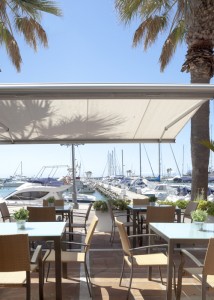 If the marina is the social hub of Sotogrande, then the Ke Bar is the heart of the marina. Already an institution in the area, it is the spot to relax with a drink, chat, meet and simply take in your surroundings.
Open from breakfast through lunch and cocktails to dinner, this stylish but easygoing venue serves the local community throughout the year as a restaurant-café, and can count on a large and loyal following.
Popular are the refreshing salads, light lunches, traditional Spanish fish and seafood dishes, the desserts and fine choice of wine and champagne, while winter menus offer heartier fare and in summer cocktails and a famous Gin menu take pride of place.
Set right by the water's edge, where yachts gently bob on the waves, the Ke Bar breathes the atmosphere of this most elegant of marinas, which exudes laid-back style with such panache.
Surrounding you as you enjoy a drink or meal on the terrace deck are the shops and boutiques of the marina, with the activity on the boats providing a popular focal point behind which the sea and views of Gibraltar and North Africa come into focus.
It is in this popular meeting point that people gather to have breakfast, enjoy a leisurely lunch or business meeting, catch up with friends or come to relax after work and watch the sun set over Sotogrande.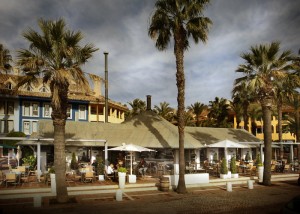 Already an established reference point in the area, it is the kind of place you will arrange to meet someone, and for those living in the luxury apartments both surrounding it and a little further along a refreshing drink awaits at the end of a short stroll from your home.

Whether for a chilled daytime snack or a place to socialise on summer evenings, the Ke Bar is the spot to get to know Sotogrande's port.

Holmes Sotogrande has several beautifully finished waterside apartments for sale, contact us to find out more

Photos courtesy of Grupo Ke

By Jackie Cruz - Manifesto · May 13th 2013