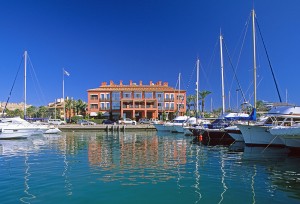 When people speak of Sotogrande they usually highlight characteristics such as space, exclusivity, outdoor living and sport. When focusing on sport, golf inevitably comes to the fore, in close connection with Valderrama, yet another famous aspect of Sotogrande is its marina – home to a rich and longstanding tradition of sailing and water sports.
The beating heart of the community is the marina area, with its iconic waterside apartments, shops and cafés painted in soft pastel colours. The first thing you spot when you enter this elegant area is the sight of beautiful boats swaying gently on the waves. This profusion of different vessels, ranging from sailing yatchs to small and large motor yatchs and those designed for competitive fishing, forms an indelible part of the marina's landscape, and adds to an ambience of easygoing activity as boatsmen get ready to head out to sea.
The point of reference for all this activity has always been the Real Club Marítimo Sotogrande, one of the venerated and successful yacht clubs in Spain.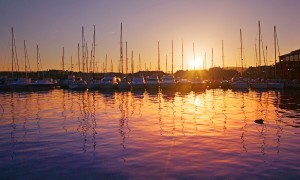 It too forms part of the Sotogrande fabric, and is one of the pieces in the puzzle that make this part of the world so special. Boasting a long list of successes both as a host of popular regattas and all-conquering entries, the Real Club Marítimo Sotogrande can look back on a glorious history through which a great deal of expertise has been built up.
In addition to regulating water sports in Sotogrande and organising competitions, the yacht club also operates a sailing and a diving school, both of which have produced their share of stars. With a number of Hobbycats and Lazers and other sailing vessels available for hire both on the beach and the River. Adults and children from the age of six onwards can sign upto varied training courses that benefit from the know-how, equipment and surroundings of the Real Club Marítimo Sotogrande. With so much sea around it is not surprising that sailing is such an attraction here, and at various times during the year Sotogrande becomes the centre of attention during regattas such as the I Straits Interclub Championship and the XIII BMW Sotogrande Cup.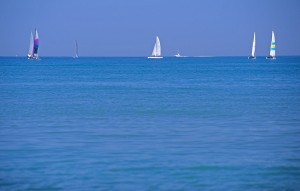 The latter sees a fleet of forty or more competition boats head out into the Straits to do battle for the Sotogrande Cup, now in its thirteenth year and just one of many events hosted annually. Held this year from the 10th to 13th of August, the Sotogrande Regatta brings together top competitors both from across the country and abroad, including of course the keen sailors from nearby Gibraltar.

Sotogrande's marina, which also boasts professional maintenance and ship chandling facilities, is also the home base of Yachting Sotogrande, which provides a range of services including charters, corporate hospitality events, yacht management and both sailing and powerboat courses at the RYA Training Centre. Together, these organisations build upon a rich sailing and water sports heritage that makes Sotogrande not just one of the most pleasant nautical centres in these waters, but also one of the best.

This fabulous penthouse apartment over looking the Sotogrande marina to the south and with views of Gibraltar in the distance is a fantastic opportunity. https://www.holmesotogrande.com/ref-TOR-1308.html

By Jackie Cruz - Manifesto · August 3rd 2012