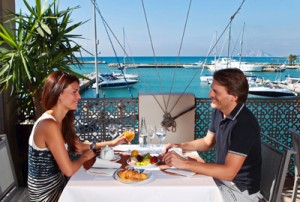 Situated at the furthest point of the Sotogrande marina, the Hotel Club Marítimo occupies a rather private spot that not only enjoys the best views of the boats and Gibraltar, but also looks back on the picturesque marina itself.
A member of Small Luxury Hotels of the World, this is a venue with a character and ambience all of its own, and as such can be classed a boutique hotel. With 41 rooms and suites it is, however, quite small as a hotel and sizeable for a boutique establishment, so the Club Marítimo is in every way a unique kind of hotel.
In keeping with its Sotogrande setting, the standard of luxury, service and refinement is high, and while the décor is trendy and contemporary a touch of old-worldly charm remains. Visitors enter through a stylish reception in which modern art takes pride of place before into stepping into an inviting lounge set in what is a modern take on the traditional Spanish courtyard.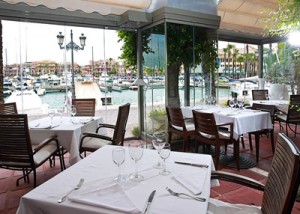 Though covered, the lounge serves as an atrium for the three-storey structure, providing a sense of space and volume as well as a focal point within the hotel. Also on this level are some of the meeting rooms used for private and corporate events, and the Cafeteria El Marítimo, a trendy coffee shop that also serves Spanish tapas and refreshing cocktails inside or out on the panoramic terrace.
The rooms follow the unconventional and individualistic trend in the hotel, offering something more akin to a private studio suite than a conventional hotel room. You step into a small lounge that would make a fantastic little bachelor pad and could picture yourself as a sophisticated urbanite as you survey the trendy bathroom and bedroom. The latter, by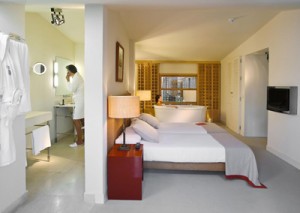 the way, is set to the side of the lounge, not in a separate room, giving these fun suites a distinct loft apartment feel.

Excellent design features add a sense of adventure and personality, but they have also been devised to make the most of the available space. The television screen, for instance, swivels on a chrome pole that forms part of the décor but also allows you to watch TV in the lounge or from the comfort of your bed. The bedrooms, meanwhile, overlook the marina in all its glory, with its cafés, restaurants and lounge bars set behind the masts of yachts bobbing in the harbour.

The best view of all is to be had from the large terrace of the Restaurante El Marítimo, which serves Andalusian cuisine with modern inventiveness and sophistication, providing the perfect spot from which to enjoy the unique charm of the Sotogrande marina. With beaches, polo, lots of culture and nature to explore, and some of the best golf courses in Europe on its doorstep, this hotel's enduring popularity with a discerning clientele is easily explained.

www.clubmaritimodesotogrande.com

To view a range of properties for sale in Sotogrande Marina click here.

By Jackie Cruz - Manifesto · September 12th 2012