There's never a dull moment in Sotogrande. Whatever the season, there's always something to do or see. The mild climate and convenient location create endless opportunities for fun and enjoyment for all the family.
Autumn
When the cooler breezes of September reach the coast, life returns to normal after the hectic summer. The beaches become less crowded as Spanish and foreign summer tourists return home and the more relaxed pace of life for which Sotogrande is revered can begin once again.
However, it's on the greens and fairways of Sotogrande where things are about to get a lot more exciting. September heralds the start of the golfing season, an important sport for many residents and visitors to the area. The extensive choice of championship courses in Sotogrande entices players from all around the world to test their skills and spectate at some of the world's most important tournaments including, in 2017, the Andalucía Masters at Valderrama.
Winter
Winter's ideal for exploring some of the amazing sights within easy reach of your Sotogrande base. While the heat of summer can make touring less attractive, the comfortable temperatures and blue skies that we enjoy throughout most of the winter months are perfect for inland hikes through the countryside. A couple of hours north of Sotogrande, the Grazalema Natural Park, which was declared a UNESCO Biosphere Reserve in 1977, is known for its incredible landscapes (with Andalucía's biggest cave system as well as cliffs and gorges), its flora and colonies of Griffon vultures.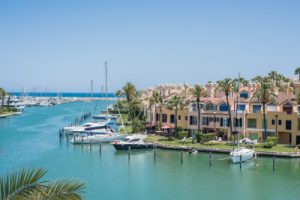 Spring
As the days slowly begin to lengthen, Sotogrande's equestrian centres come into their own, welcoming the start of their competition seasons. First, the dressage specialists with the Andalucian Cup among other events before the warm-up to the main polo summer season gets underway. Important entries on the European polo tournament spring calendar include the José Ignacio Domecq Memorial Cup in March and Conde de Guaqui Memorial Cup in April, both featuring teams from the UK, Belgium, Ireland and Spain.

The polo tournaments gather momentum throughout the spring and summer, culminating in the main event, the Sotogrande International Polo Tournament, which runs through August attracting visitors and competitors from all over the world.

Summer
Away from the land, summer is all about sailing in Sotogrande. Although there are regattas hosted throughout the year by the Real Club Maritimo Sotogrande, it's summer when things get serious. The Sotogrande Regata Cup, Trocadero Copa de España and Championship Tour see the elite sailors compete, but there are also many less well-known regattas, as well as opportunities for juniors and beginners to test their skills on the water with many schools offering lessons or RYA training courses.

Sotogrande is unique in southern Spain for its eclectic range of sports and activities on offer throughout the year, from shopping through to stand up paddle and Segway tours. For more information on properties in Sotogrande and the surrounding areas, contact us.

By The Holmes Team · September 8th 2017